LEGO OGRE Revisited
---
Updated December 2011: LDRAW file; see below.
---

Back in 2003, I built miniatures for OGRE (a classic wargame about futuristic tanks and such) out of LEGO bricks. This was a fun project and I was pretty happy with the results.
Later, in 2010, Dave McWeasely posted a new set of LEGO OGRE minis over at boardgamegeek.com which were about ten times cooler than mine. Go on, check them out. They rock. (Also, most of them are nice and small, which is important for G.E.V.'s more lenient stacking rules.)
I built a set of Dave's armor-unit designs as soon as I could - I had to order a few extra parts for the tank treads - and these were the pieces I finally used to play a few games of OGRE against myself (which I'd been meaning to do since 2003 at least). They worked very nicely on the large map. I also drew up an LDRAW (LEGO CAD) file of Dave's armor units, for the convenience of anyone who wants to build them. I didn't have the parts to build his incredible Ogre tank, so instead I built a new version of my own, which I posted to boardgamegeek:

"Jaws"

Now it's 2011; I've got some new LEGO parts and some new ideas. So now I've built an all-new set of OGRE/G.E.V./Shockwave miniatures, mostly smaller than Dave's and, I think, more elegant than my originals. I hope you like them.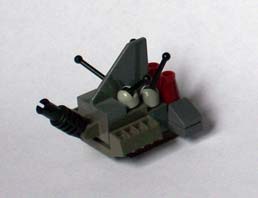 Ogre Mk III "Jaws 2"


Ogre Mk V "Jaws 3"



Light Tank - Heavy Tank - Superheavy Tank




Howitzer - Mobile Howitzer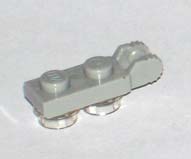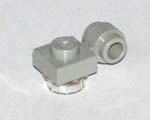 GEV (Hovercraft) - Light GEV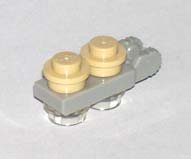 GEV-PC (Floating troop transport)



Missile Tank



Infantry: 3 Squads - 2 Squads - 1 Squad


Marines


Command Posts: D0 - D1 - D2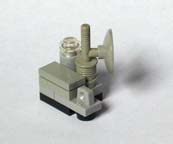 Mobile CP



Truck - Hovertruck


Cruise Missile and Crawler


Radar - Radar Jammer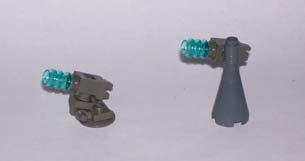 Laser - Laser Tower


A Laboratory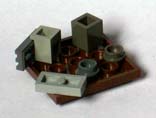 Rubble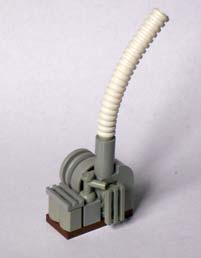 A Generator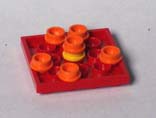 A Crater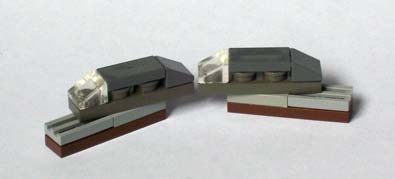 The Train