LEGO OGRE Returns
---
Updated December 2011: LDRAW file; see below.
---

Back in 2003, I built miniatures for OGRE (a classic wargame about futuristic tanks and such) out of LEGO bricks. This was a fun project and I was pretty happy with the results.
Later, in 2010, Dave McWeasely posted a new set of LEGO OGRE minis over at boardgamegeek.com which were about ten times cooler than mine. Go on, check them out. They rock. Then, in January of 2011, I built an all-new set of OGRE/G.E.V./Shockwave miniatures. But later in that same discussion - in June, as long as we're keeping track - someone else posted another very nice set of miniatures. And like clockwork, that inspired me to reimagine LEGO GEV yet again, this time in a "near future", specifically Combine style.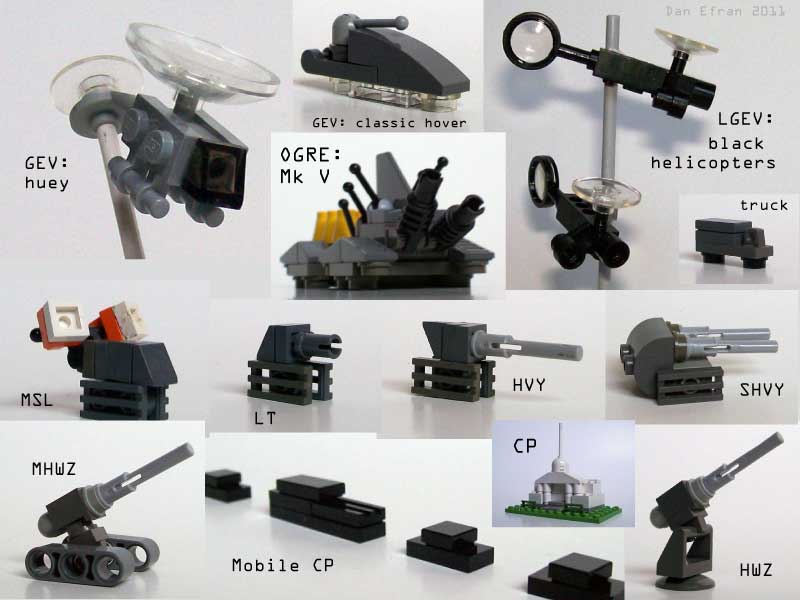 The LEGO GEV Combine 2011 Line-up

I'm particularly proud of the black helicopters, which are just three LEGO parts each (not counting the stand).
---
Updated December 2011: By request, most of these models are now detailed in a LDRAW file. This LEGO CAD data lets you create parts lists, building instructions, and even raytraced virtual models, when used with the appropriate software.
---