The Martian Embassy
a visitor's guide to Earth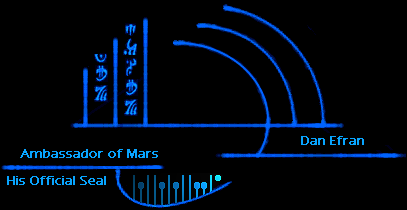 Greetings, fellow citizens of Sol system! I welcome you with pride to the Martian Embassy website.
(skip directly to sitemap)
Earth holds many delights for the Martian traveller. Each region of the planet has its own climate, cuisine, customs, and culture, and they are all exotic and endlessly fascinating. There's plenty to see and do here; almost anywhere you go there's a museum, park, concert, roller coaster, or natural phenomenon to be experienced. Audiovisual entertainments are broadcast constantly throughout the cities of Earth.
One particularly impressive achievement is the World Wide Web, a single file system which serves information, entertainment, and other services to nearly every desktop computer on Earth. The rustic charm of the two-dimensional display is an elegant counterpoint to the frenetic, mostly unsupervised free-for-all of content. You could spend your whole vacation, perhaps a whole lifetime, just exploring the Web's myriad facets. But don't! See some non-virtual sights, too. Meet some real native Earthlings. Buy genuine Earth souvenirs for your family back home. [Note: see Interplanetary Import/Export Regulations Handbook, Pub. #EM-IIERH-1999-29793.]
To help you get the most from your visit to Earth, I have created this website. It includes reviews, hyperlinks, and samples of some of my personal favorite aspects of the culture of Earth. There are also a few items of interest from Mars, which you will likely appreciate if your stay on Earth is lengthy. (If you are from Earth, I hope you will find this small on-line exhibition thought-provoking. Through mutual curiosity and respect, dissimilar cultures may peacefully coexist.)
I regret that we are unable to provide consular services on the Web at this time. If you have any problems or questions while visiting Earth, please visit the Martian Embassy in person.